<!- sidebar-file='/home/sites/www.seabrightnj.org/web/sbnj/_zumu_sidebar.html' -->
Municipal Office Hours
Monday through Friday
8:30am - 4:30pm
<!- box:box1 -->
Departments
» Borough Directory
» Administrator
» Assessor
» Beach
» Board of Health
» Building Department
» Council & Committees
» Emergency Management
» EMS
» Fire Department
» Library
» Municipal Court
» Unified Planning Board
» Police Department
» Public Works
» Recreation Department
» Sewer Utility Department
» Tax Department
<!- box:box1 -->
Community
» Rebuilding Our Public Facilities
» Streetscape Project
» Flooding Information and Resources
» Services - Garbage, Utilities, Alerts, and more
» Schools
» Sea Breeze Newsletter
» Sandy Recovery
» Community Information
» Helpful Links
SEA BRIGHT BIRD NESTING ACTIVITY UPDATE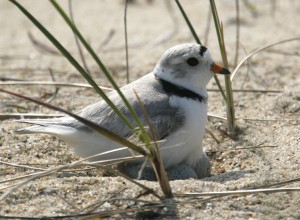 Piping Plover Incubating Eggs
May 26, 2017
Beach nesting bird activity has increased since our last update.
Sea Bright North (9 piping plover pairs, 3 American oystercatcher pairs)
8 pairs of piping plovers are currently incubating nests.
1 additional pair has been seen scraping in the area. This pair is the banded Bahamas bird.
1 American oystercatcher pair has a nest and 2 additional pairs have been observed in the area.
Least tern nesting has begun. Least terns are colonial nesters so when there is one, there are typically many at a site. We are doing our best to ensure all nests are within the fenced area. Fencing will be moved on a regular basis to accommodate all nests.
Sea Bright South (1 American oystercatcher pair, least tern colony)
The piping plover pair that was nesting on Sea Bright South has moved to Monmouth Beach North. We will update you if chicks from this nest move on to Sea Bright, but as of now they are occupying Monmouth Beach.
1 American oystercatcher pair has a nest. American oystercatcher adults bring food back to their chicks so they are not as mobile as piping plover chicks (who must feed themselves), but we will still advise you on this brood location.
Least tern nesting has begun with many tern nests located between Sea Bright South and Monmouth Beach. An estimated 200 birds have been observed on site. We have seen a decrease in the number of colonies around the state so your site is vitally important for these birds. We will continue to move fencing to accommodate nests for this species.

American Oystercatcher Least Terns